Dundee is a small community located in the northwestern corner of Delaware County. The Maquoketa River forms the border to the West and Backbone State Park is just two miles North.  Children living in Dundee attend the West Delaware Community School District, which is located 11 miles southeast of Dundee in Manchester.  Traveling to Cedar Rapids, Dubuque, Waterloo from Dundee takes about an hour each.
"Tiny in Size, Mighty in Pride" is the motto for Dundee. The community offers a town park with a new playground, and has a shelter with fireplace and modern rest rooms. A lighted ball diamond offers the opportunity for children to play in Little League and men to play softball. The community room located within the fire station can be rented for private gatherings by calling Marge Horstman at 563 924-3017, this room has an occupancy of 35.  A volunteer Fire Department and First Responders answers 911 calls with the Regional Medical Center located in Manchester.  Canoe access to the Maquoketa River is located on the west side of town.
The history of Dundee begins in 1887. The first store built has been renovated to its original look. Downtown lighting is provided by new turn of the century street lamps. The old bank, hotel and telephone buildings are still standing though are now a tavern where fish fries are served on Friday nights, and are used as homes for local residents. Businesses include a building material supplier, auto repair, auto sales, engine and transmission repair, A-Z Snacks and a beauty shop.  Sandwiches are served daily at the tavern.  The Post Office is located on Center Street across from the tavern.
The Veterans Memorial monument was built in 2013 and contains 193 named bricks representing the Veterans from the Dundee area, dating back to the Civil and Mexican War.  This is located in the Southwest corner of the city park.
The Delaware County Freedom Rock is located in the Northwest corner of the city park and is scheduled to be painted in 2019.
Visit our Web Site at www.dundeeweb.com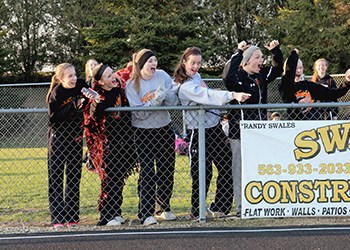 West Delaware
601 New Street Manchester, Iowa
Phone: (563) 927-3515
Learn More
Dundee residents receive the Clayton County Press-Journal and Eastern Iowa Shopping News at no cost each week. The Cedar Rapids Gazette is delivered daily to those who subscribe and the Des Moines Register can be received at your door on Sundays. Many other newspapers can be received via the US mail. Libraries are located in each of the surrounding towns, Manchester, Strawberry Point and Lamont. Health care and Human Services personnel are located in Manchester with services provided to Dundee residents as needed.
Children attend the West Delaware Community School District (a pre K thru 12 public school that serves the communities of Dundee, Greeley, Ryan, Manchester and Masonville) in Manchester. A Catholic grade school (St. Mary's)  is located in Manchester with busing provided by the public school district. St. John ELCA Lutheran Church is located on Main Street, services are Sunday School 9:15 and Worship 10:15. Catholic, Baptist, Presbyterian, Methodist, Community Congregational, Assembly of God, Missouri Synod Lutheran and churches of various other denominations are located in Manchester, Strawberry Point and Lamont.