Ryan is located on highway 13 in the southwestern part of Delaware County and has a population of nearly 400. Ryan has strong Irish ties dating back to the late 1800's. Since it became incorporated on February 5, 1901, the City of Ryan has grown and changed through the years, seen good time and bad and has become stronger through it all. We are famous for showing our Irish heritage by way of the shamrocks located on our water tower. Ryan is also the home of Iowa's largest umpire statue, which is a symbol of the pride our citizens take in our City Park and ball diamond and to the many youth and adult teams who take to the field. That pride is even more visible with the improvements recently completed at the park and ball diamond. Our community came together and donated their labor, equipment, materials and personal time to provide this city with a great recreational area. Those who wanted to help in other ways donated to the fund drive for this project.
The City of Ryan is also home to a variety of businesses, some of which are a local grain cooperative, convenience store, bank and insurance agency, a hair salon, veterinary service, storage rental units and a number of automotive repair shops. We are a town full of helping hands and smiles, always willing to sit and visit awhile. All of this is what makes Ryan "A community of Unity."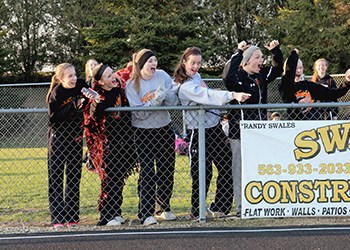 West Delaware
601 New Street Manchester, Iowa
Phone: (563) 927-3515
Learn More
Parks and Recreation
Crystal Park
A park on Adams street featuring plantings and a water fountain, benches to sit and visit, an all round good place to come, meditate and relax.
Ryan City Park
A newly refurbished ball diamond, including dugouts, water fountain and cement walkways, makes this the best place to play ball in the county! For your family enjoyment, there are shelter areas for picnics, playground equipment and tennis, basketball and sand volleyball courts. And our famous umpire who oversees it all!
Swimming
A state of the art aquatic center is just 10 minutes away in Manchester. The new aquatic center features a zero-depth entry with a diving board, drop slide, tube slide, flume slide, spray features, lily pad walk, sand playground, sand volleyball court and concession stand. It is located next to Tirrill Park at 200 Stearns Drive in Manchester. To reach the aquatic center just phone 563-927-6488.
The aquatic center provides the following programs and services:
American Red Cross – Learn to Swim Program, private swim lessons
Manchester Swim Team through the Manchester Swim Team Association
Water Aerobics
Pool Parties
Community Protection
Delaware County Sheriff:563 927-3135
Ryan Volunteer Fire Department
Medical
Ryan Volunteer Fire Dept. First Responders